Speech Adjudicator Certification
If you had a website account prior to fall 2018, please sign up for a new account when enrolling in a course. If you have enrolled, click "My Courses" above (you may need to login first).
Initial (First Time) Training & Certification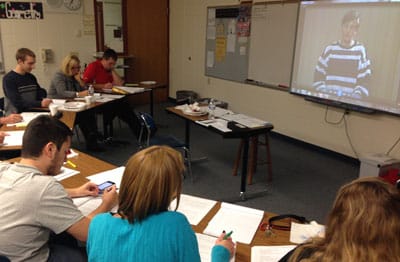 Coaches and/or adjudicators (judges) gain certification through training. If certification lapsed 10+ years ago, take this course. Enroll with a modest fee of $38; the online course takes about 2 hours to complete. After successful completion, register within the online course (usually a week ahead of time) for an in-person, 3-hour workshop, to learn best practices of writing effective evaluations. At the end of the workshop, you will independently write an evaluation of a performance, which will be assessed for quality constructive and instructive feedback. Walk-ins are not allowed at workshops. We require at least 3 hours of in-person attendance; if the timeframe doesn't work or you will be delayed in arriving, please find a different workshop.
Upcoming Workshops
Workshops are offered in December, January, and early February. A full list is available in November.
Certification Term

Certification lasts 3 school years (inclusive of certification).
Renewal
The state office emails adjudicators when certification is due for renewal; individuals whose certification expired/lapsed within 10 years may enroll in renewal certification. Following successful completion of a "refresher" online course ( about 30 minutes of tutorials outlining recent changes in evaluation sheets and reiterating adjudication expectations based on those new sheets), receipt of $6 fee, and assessment (online completion of evaluation of a video student speech), adjudicators are notified to download a digital certificate as proof of renewal (and their status is updated in the online roster).
Speech Adjudicator FAQs
How many Speech adjudicators am I required to have?
Generally speaking, contests ask for one adjudicator for every five entries, or fraction thereof. Some contests require fewer or more. This means that if a school has 7 entries, it should bring two adjudicators. Some contests will allow schools to pay a fee for uncovered adjudicators, not because they have extras they can hire for a school, but to incentivize schools to bring their own adjudicators. It is a burden on any host when schools do not provide all of the adjudicators they are expected to.  The State Festival requires one adjudicator for 1-8 entries, two adjudicators for 9-19 entries, and three adjudicators for 20-25 entries.
How do I get certified to adjudicate (judge) Speech contests?
You will enroll in an online course that takes about 2 hours, followed by a 3-hour in-person workshop. The initial certification fee is $38 and lasts 3 years, at which point you will be able to renew. To learn more, visit our adjudication page.
Can I volunteer to host a workshop?
Please contact your district chair. To keep costs down, up to two workshops may be scheduled per district, but are contingent on availability of a trainer. Weeknight  workshops are scheduled between 4:30/5:00 – 7:30/8:00 pm, and Saturday workshops are scheduled from 9am-12 Noon. Workshops should be centrally located in an area, so they are more easily accessible to the greatest population. We will not schedule workshops during major break periods (the end of December), and will only schedule workshops over the summer if there is significant demonstrated need (we tried to offer several in 2018, and all but one were cancelled for lack of signups).
Are there online workshops?
We have attempted online workshops in the past, but participants were not interactive, and bandwidth for most people is not powerful enough to stream both live video of participants, as well as prerecorded video. Still, if existing workshops are cancelled, or there are other mitigating circumstances, a virtual alternative may be scheduled.
How do I renew certification to adjudicate (judge) Speech contests?
You will enroll in an online course that takes about 30 minutes, plus evaluating a student presentation. Upon receipt of the $6 recertification fee and successful completion of the course and evaluation, certification will be renewed. To learn more, visit our adjudication page.
How do I get hired to adjudicate/judge?
If you're not affiliated with a particular school, or would like to offer your adjudicating services to additional schools and contests, please join our statewide email list. We do not have lists for specific regions of the state, because there's too much overlap between areas with contests schools attend.
My speech adjudicator certification lapsed. Which course do I enroll in?
If your certification lapsed within the past 10 years, you may enroll in the Renewal course. If it was more than 10 years, please enroll in the Initial Training course.
How do I register a complaint about an adjudicator?
Do you have a list of descriptive words/phrases adjudicators can use?