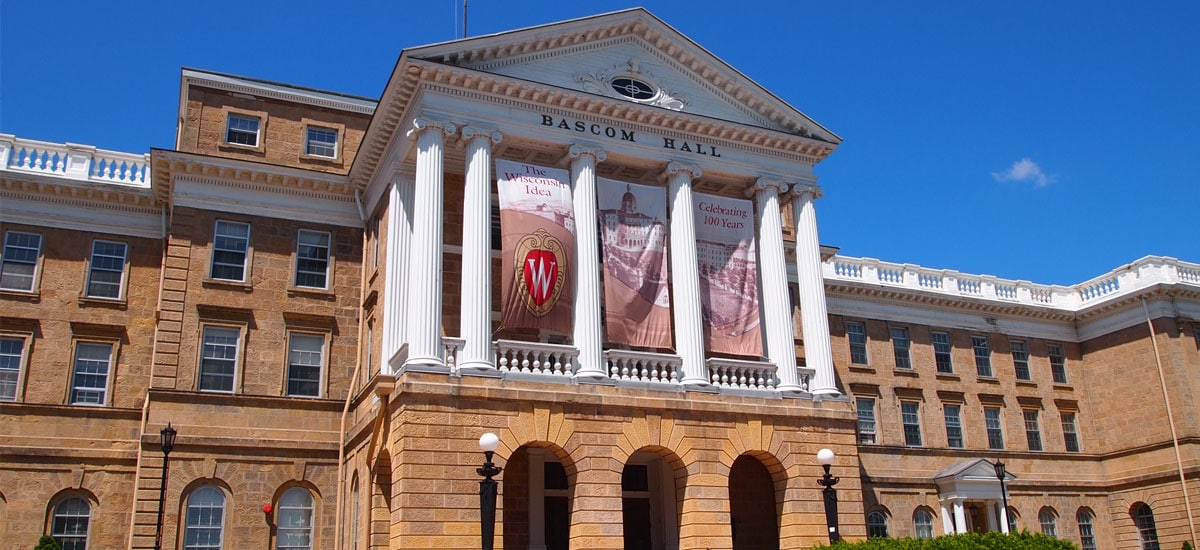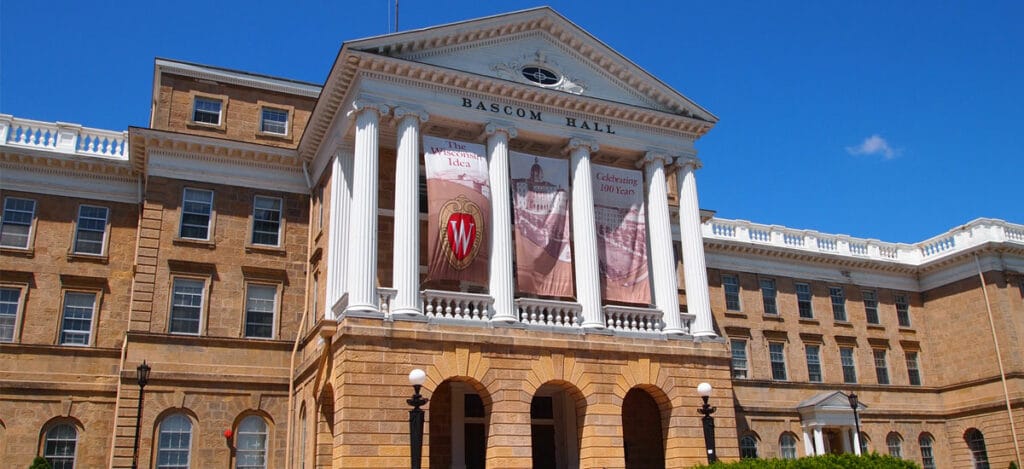 UW-Madison – Apr. 8-9, 2022
Bus/Traffic Patterns
Buses drop off/pick up students on Observatory Drive – near the Carillon Tower in front of the Social Sciences building.  Buses should only be stopped there, and never parked. Bus parking is available in Lot 60. During the festival, Observatory Drive is one-way (going west) from Park Street to Charter Street.  When buses leave Lot 60 to pick up students, the return route should be:  Lot 60 to Walnut St – Left on University Ave (which becomes Johnson St) – Left on Park St.
Changes for 2022
(1) Students must wait in designated areas until dismissed to contest rooms; and (2) To better manage noise and accommodate youth protection measures, the second time slot each day is a half hour later than it used to be.
Virtual State Speech
Each school can designate if most of its team will participate in-person, or if it prefers virtual. Coaches also can designate individual entries to participate virtually, as long as they also earmark adjudicators to accompany contestants at each contest in which they have participants. Virtual State will only be asynchronous adjudication of prerecorded videos. There will be no live virtual option.
Individual contestant itineraries will be emailed to coaches early in the week of the festival. Depending on which time slot your school has been assigned, you will follow the schedule in the appropriate column below.
Fri. 5:30pm

Fri. 7:30pm

Sat. 9:30am

Sat. 11:30am

Arrive; pick up T-shirts, etc.; students may gather in designated areas only.

Adjudicator meeting
Location: TBA

Extemp/Radio contestants report to
Location: TBA

All other contestants may report to buildings/contest rooms
Other Logistics on Campus
While walking in corridors, remember other rounds may be in session, so please respect those students presenting, and walk and talk quietly. Excitement, anticipation, nervousness and anxiety all contribute to students and adults not exercising usual common sense and good judgment regarding personal security and safety. Please share these with everyone who will be in attendance.
Festival Headquarters: (920) 710-1895
Emergencies: 911
Univ. Police Non-Emergency:  (608) 262-2957
Emergency phones with direct line to police are located in several outside locations, marked with a blue light.
Safety Reminders
Walk in groups of 2 or more.
Cross streets carefully and at designated crosswalks.
Stay in well-lit, well-populated walking areas.
Enter/exit buildings at main, well-lit doorways.
Be aware of surroundings – inside or outside.
Always let teammates know where you are going and when you expect to return. Agree upon a designated meeting time/place with your coach.
Judging/Rules Concerns
Coaches may bring concerns to Social Sci. 6322; necessary issues will be referred to the Referee Committee.
Awards
| Points | Award | Medal |
| --- | --- | --- |
| 5-19 | Achievement | Small Bronze |
| 20-22 | Finalist | Bronze |
| 23-24 | All State | Silver |
| 25 | Critic's Choice | Gold |
After the round, the coach or one adult brings evaluation sheets for verification (in case they haven't been tabulated yet) and to collect awards in Ingraham 120. Advancing to the State Festival is an achievement and earning awards beyond that represents rigorous standards. Coaches of four-year gold medalists should immediately claim the special medallion! Schools not retrieving awards at the festival for their team will be assessed a $25 handling fee.
Expo, Merchandise Store, and Photo Backdrop in Headquarters Building
Pre-ordered merchandise may be picked up at the WHSFA Store. No pre-ordered merchandise will be released without payment or proof of check request/purchase order. Visit with college forensic programs and summer camps. Take a team photo in front of our backdrop!
Equity/Inclusion Resources
The Wisconsin High School Forensic Association is committed to fostering safe and supportive learning environments for all student participants and adults at our interscholastic events. This requires mutual respect on the part of all people present. Accordingly, WHSFA prohibits all forms of harassment and discrimination by and to any person, whether written or oral, based on race, color, religion, sex, gender identity or expression, sexual orientation, marital status, citizenship, national origin, age, disability, genetic information, or any other characteristic protected by any applicable federal, state, or local law. Individuals found to have violated this policy will be subject to a full range of sanctions, up to and including removal from the festival premises.
If you have a concern about how people are treating you that you want to make known to the WHSFA and, if appropriate, legal authorities, or you have witnessed behavior inconsistent with the Harassment and Discrimination Policy, please report to the festival headquarters, and request to meet with an equity officer, who will confidentially discuss the matter with you, who shall in turn, investigate the complaint.
By building:
Birge:
Chamberlin:
Education:
Humanities:
Ingraham:
Social Science:
Sterling:
Van Hise:
Van Vleck:
White:
*Please see directional signage to locations.