Wisconsin High School Theatre Festival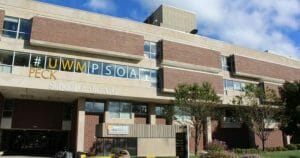 General Information
UW-Milwaukee – November 21-23, 2019
More than 1,500 high school students gather each year at the Wisconsin High School Theatre Festival (WHSTF) — held since 1930 — for three days packed with workshops featuring trained professionals, one-act and individual event contest performances, showcase productions, and exhibitors from theatre vendors to collegiate programs. Prior registration is required.
We welcome middle and high schools to participate in the Theatre Festival!
Middle Level
We are piloting programming for middle level students and teachers, including interactive workshops, and viewing of age-appropriate one-act shows. Middle level schools interested in entering one-act plays in our contest would need to start at the district level, and advance to State through the sectional level. Interested directors should contact the state office.  More information will be posted in September, with specific details posted by November 6 (based on scheduling of high school one-acts who advance to the state festival).
One-Act Contest
Schools wishing to participate in the one-act contest must be members of the WHSFA, and must begin their qualification process by entering the district level in mid-October, followed by the sectional level in late October/early November. One-act plays advancing to the State level are scheduled throughout the day Friday and Saturday, concurrent with workshops. All students attending the festival are welcome to watch. One-act performances are a great educational opportunity for students and their directors to receive constructive criticism from trained theatre professionals.
Acting – Monologues
Acting – Duo
Acting – Group
Musical Theatre – Solo
Musical Theatre – Duet
Musical Theatre – Group
Every student/group who participates in IEs performs their piece(s) and receives immediate oral feedback (and written feedback, available at the end of the contest) from two adjudicators with professional theatre background. Information and rubrics for each event are delineated in the document attached below. To register, students will need to know which IE they are signing up for, name(s) of piece(s), name(s) of partner/group (if applicable), student contact info and teacher's contact info — this will be collected through SpeechWire. ANY high school theatre student may participate in IEs at the state level, but students must be inducted members of Thespians to advance to Nationals. IEs will be offered Friday and can be scheduled around one-acts the student is participating in. A $15 charge per registrant will be charged, and may be paid to WHSFA with overall state festival registration. Please see documents/links below for more information:
Tech Olympics
Tech Olympics is a great way to test your technical skills in a fun and friendly competition with your peers. Actors, designers, directors, technicians, and theatre enthusiasts are invited to participate. Pre-registration for this contest is not necessary, but participants must be pre-registered with the festival.
Showcase Selection Process & Criteria
GENERAL INFORMATION
Schools are required to have current WHSFA school membership and are further encouraged to actively participate in educational activities provided by WHSFA.
Usually, a non-musical opens the Festival and is performed Thursday at 8pm, and a musical is performed twice on Friday: 4 pm and 8 pm.
Schools performing the non-musical receive $750 while those performing the musical receive $1000 to help defray costs. All other expenses are the responsibility of the performing school, including registering and paying Festival fees for all members of the company.
Schools may submit a show for consideration that will be revived from the current year and by necessity might involve just-graduated students OR a show to be produced the following fall just before the Festival.
Directors and technical staff of selected schools must travel to the host site to meet with WHSFA and host institution officials no later than the first full week of September.
Once selected, schools are required to complete a questionnaire regarding technical needs and production information and submit it to the WHSFA office by September 1.
SELECTION PROCESS
The selection committee takes the following general factors into account:
Schools from all areas of the state and schools of various sizes should be represented.
Shows should represent a variety of styles and genre:
Musical/Non-musical
Drama/Comedy
Classical/Contemporary
NOMINATING YOUR SHOW

Committee members will make every attempt to see the show submitted for selection, attend another production during the year, or find other ways to become familiar with the work of the applicant school as well as its directing and technical staff.
Applicants are encouraged to submit some or all of the following as applicable*:
Online application completed by June 22, including any other supporting materials.
Director's concept statement (pasted/typed in online application)
Reference to past participation in the Wisconsin High School Theatre Festival (pasted/typed in online application)
Sketches or photographs of the set (may be uploaded in application or emailed afterward)
Supporting documentation, e.g., programs, make-up, costume sketches, set, lighting designs (uploaded in application or emailed afterward).
Videotapes cannot be accepted for copyrighted scripts.
Peer review or letters of recommendation (uploaded in application or emailed afterward), which speak to director's experience with depth of performance, substance and rigor of material performed, and artistic vision, creativity, and/or innovation for staging.
Committee members will review all submitted materials. Selections are announced in mid- to late-June.
*If submitting a show not yet in production, provide documentation for shows previously produced that demonstrate the type of work created by students and staff of the applicant school.
Workshops
Workshops are scheduled throughout the day Friday and Saturday, concurrent with one-act plays, and are an educational opportunity for students and educators to expand their theatrical experience in a fun and relaxed environment. Workshops are taught by highly qualified instructors involved in theatre and theatre education. Workshop subjects that have been included in past years include: acting, auditioning, stage combat, costumes, dance, improvisation, mime, musical theatre, and technical theatre. A complete schedule will be posted the week of the festival. Individuals interested in facilitating/teaching a workshop may apply below.
Thursday

Friday

Saturday

Venue TBA: Showcase

Venue TBA: Showcase
Mainstage: One-Acts
Recital Hall: One-Acts
MIT 1st Floor: Individual Events


Venue TBA: Tech Olympics
Mainstage: One-Acts
Recital Hall: One-Acts
8-9:30 am: One-Acts, IEs, Workshops, Exhibits
8-9:30 am: One-Acts, Workshops, Exhibits


Tech Olympics Registration & Practice

9:45-11:15 am: One-Acts, IEs, Workshops, Exhibits
9:45-11:15 am: One-Acts, Workshops, Exhibits


Tech Olympics Registration & Practice

11:30am-1pm: One-Acts, IEs, Workshops, Exhibits
11:30am-1pm: One-Acts, Workshops, Exhibits


Tech Olympics Competition

1:15-2:45pm: One-Acts, IEs, Workshops, Exhibits
1:15-2:00pm: One-Acts, Workshops


Tech Olympics Competition

3:00-4:30pm: One-Acts, Workshops, Exhibits
3:00-4:30pm: One-Acts, Workshops, Exhibits
3:30 pm Tech Olympics Awards
5pm: Registration (incl. exhibitors)
4:00-6:30pm: Showcase
4:45-6:15pm: One-Acts, Workshops (if needed)

8:00-10:30pm: Showcase
8:00-10:30pm: Showcase
Fees/Registration
Family, friends and students not participating in the one-act contest are welcome to attend the festival, one-act performances, and workshops for a $25 general festival registration fee. Family and friends who are not attending the entire festival may purchase time block tickets ($8 per time block) on-site to view a performance. Each block ticket includes a 90-minute session (two one-act performances or one workshop). Registration for all schools opens in late-October with registration finalized/due by noon Thursday, November 7, 2019.
One-Act Fee
30 students, includes 1 director/ chaperone (additional @$6/ea.)
Time-block Pass
Venue admission for family/friends for a two-one-act show time bloc
Showcase Ticket
Special fee for showcase tickets, above and beyond other festival registration fees.
General Participant
Covers all festival events/activities; includes 1 chaperone per 15 students
Individual Events
For Thespian contest (details above).
Exhibit
$25 discount before October 1; covers exhibit space, table, 2 chairs, refreshments; two name badges; additional @$10/ea.
Traffic & Parking
Please be mindful of being in a large city and allow time for traffic, particularly if your hotel is outside the downtown area.
Buses should drop students off at 3243 N. Downer Ave., Milwaukee, WI, and should not drop off on Kenwood Ave.
The Union Garage has parking underneath the Peck School of the Arts (clearance 6'10").  Rates= $1/half hour; $1/hour after first 2 hours; Weekday limit:  $12/day; Saturday limit: $5/day. Pay for parking via walk-up paystations, credit card at exit, or Parkmobile app using code 59022. Click here to learn more about the garage entrance/exit stations (see picture to right). Nearby surface lot options (limited hours):
Zelazo (Parkmobile code 59009): Non-permit parking after 3pm Friday/all day Saturday.
Library/Garland (Parkmobile 59001): Non-permit parking after 4pm Friday/all day Saturday.
Please do NOT risk on-street parking around UW-Milwaukee. On-street parking is limited to extremely brief periods, and parking citations are issued vigorously, to protect rights of residents who live near the university.