Wisconsin High School Theatre Festival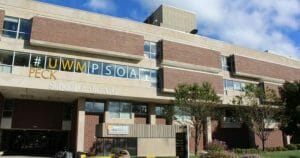 General Information
UW-Milwaukee – November 21-23, 2019
About 1,800 high school students gather each year at the Wisconsin High School Theatre Festival (WHSTF) — held since 1930 — for three days packed with workshops featuring trained professionals, one-act and individual event contest performances, showcase productions, and exhibitors from theatre vendors to collegiate programs. Prior registration is required. Middle level schools may enter the one-act contest, and/or attend the festival to view age-appropriate shows and participate in workshops.
We welcome middle and high schools to participate in the Theatre Festival!
One-Act Contest
Schools wishing to participate in the one-act contest must be members of the WHSFA, and must begin their qualification process by entering the district level in mid-October, followed by the sectional level in late October/early November. One-act plays advancing to the State level are scheduled throughout the day Friday and Saturday, concurrent with workshops. All students attending the festival are welcome to watch. One-act performances are a great educational opportunity for students and their directors to receive constructive criticism from trained theatre professionals.
Middle level schools may attend a high school one-act festival in their area district, or may be adjudicated in-house, and/or may attend the State Festival (space permitting) as an exhibition attendee. At the State Festival, middle level schools may earn a Merit or Excellence award, and participating students will receive a ribbon representing the award their school earned.
Thespian Excellence (Individual Events) Contest
Thespian Excellence Awards ("Thespys; " previously, Individual Events – IEs) will be held Friday of the festival (scheduled around one-acts students are performing in). Every student/group who participates performs their piece(s) or speaks on a tech portfolio and receives immediate oral feedback (and written feedback, available at the end of the contest) from two adjudicators with professional theatre background. Information and rubrics for each event are delineated document linked above. When registering in SpeechWire, teachers/directors must designate which IE(s) students are signing up for, name of piece(s), name(s) of partner/group (if applicable). ANY high school theatre student may participate in these events at the state level, but students must be inducted members of Thespians to advance to Nationals.
The schedule is posted in the "Schedule" section below.
Performance Events
monologue
duet acting
group acting
solo musical theatre
duet musical theatre
group musical theatre
Questions
Contact: withespians@gmail.com
Technical Events
costume construction
costume design
lighting design
scenic design
short film
sound design
stage management
theatre marketing
makeup
Tech Olympics is a great way to test your technical skills in a fun and friendly competition with your peers. Actors, designers, directors, technicians, and theatre enthusiasts are invited to participate. Pre-registration for
this
contest is
not
necessary, but participants must be pre-registered with the festival.
Tech Olympics at the WHSTF is generously facilitated and presented by ETC – Electronic Theatre Controls.
Examples of Events
Focus a Light (Individual)
Knot Tying (Individual)
Costume Quick Change (Pair)
Wire a Plug (Individual)
Cable Relay (Team of 4)
Sound Setup (Pair)
We recommend schools purchase showcase tickets as part of their registration, but some will be available at the festival at the registration desk during the day on Friday and/or outside each respective theater about one hour before each show on Thursday and Friday.
Synopses
All My Sons
Set in 1947 Ohio, All My Sons depicts a post-war American family, the Kellers, as they struggle to stay intact and to fight for a bright future even as a long-hidden secret threatens to emerge—forcing them to reckon with greed, denial, repentance, and post-war disenchantment across generations. 
All My Sons is an American play with the strength of a Greek Tragedy. In many ways, the Keller family is royalty—Joe is the King, Kate is the Queen, and Chris is the prince. As we watch this "royal family" follow a tragic downfall, we are called to examine our own social responsibilities to our families, to our conscience, and to all the sons of American wars. 
Emotionally challenging content & mature themes: parental discretion strongly advised.
Joseph and the Amazing Technicolor Dreamcoat
Sha la la Joseph you're doing fine! You and your dreamcoat ahead of your time! One of the most enduring shows of all time, Joseph and the Amazing Technicolor Dreamcoat is a reimagining of the Biblical story of Joseph, his father Jacob, eleven brothers and the coat of many colors.
Told entirely through song with the help of a main character Narrator, the musical follows preferred son Joseph. After being sold into slavery by his brothers, he ingratiates himself with Egyptian noble Potiphar, but ends up in jail after refusing the amorous advances of Potiphar's wife. While imprisoned, Joseph discovers his ability to interpret dreams, and he soon finds himself in front of the mighty but troubled, Elvis-inspired, Pharaoh. Joseph's solution to Egypt's famine elevates him to Pharaoh's right-hand man and reunites him with his family.
The magical musical is full of catchy songs in a variety of styles, from a parody of French ballads ("Those Canaan Days"), to country-western ("One More Angel in Heaven") and calypso ("Benjamin Calypso"), along with the unforgettable classics "Any Dream Will Do" and "Close Every Door." There are a variety of different versions of Joseph available for licensing; check out the "Orchestra / Instrumentation" tab below for more information. When you've made your choice, click "Request License" and pick the Orchestration Package that suits you.  Questions? The Musical Company's team is here to help.
A Piece of My Heart
This is a powerful, true drama of six women who went to Vietnam: five nurses and a country western singer booked by an unscrupulous agent to entertain the troops. The play portrays each young woman before, during, and after her tour in the war-torn nation and ends as each leaves a personal token at the memorial wall in Washington. 
This is a run-through rehearsal performance to give American Sign Language interpreters a chance to practice offering their service through the show.
Thursday

Friday

Saturday

UWM PSOA Mainstage Lobby: Registration & Info Desk

Whitefish Bay HS: Showcase

Mainstage: One-Acts
T-6 Studio: One-Acts (PM)
Recital Hall: One-Acts (AM)
2nd Floor Gallery: Exhibit Expo
Art Ctr Lect.: Thesp. Excellence (Act)
Zelazo 171: Thesp. Excellence (Tech)
Milwaukee HS/Arts: Musical Showcase
UWM-Kenilworth: Rehearsal Showcase

Mainstage: One-Acts
T-6 Studio: One-Acts (PM)
Recital Hall: One-Acts (AM)
2nd Floor Gallery: Exhibit Expo
Zelazo Center 220: Tech Olympics

8-9:30 am: One-Acts, IEs, Workshops, Exhibits
8-9:30 am: One-Acts, Workshops, Exhibits
9 am:

Tech Olympics Registration & Practice

9:45-11:15 am: One-Acts, IEs, Workshops, Exhibits
9:45-11:15 am: One-Acts, Workshops, Exhibits


Tech Olympics Registration & Practice

11:30am-1pm: One-Acts, IEs, Workshops, Exhibits
11:30am-1pm: One-Acts, Workshops, Exhibits


Tech Olympics Competition

1:15-2:45pm: One-Acts, IEs, Workshops, Exhibits
1:15-2:00pm: One-Acts, Workshops


Tech Olympics Competition

3:00-4:30pm: One-Acts, Workshops, Exhibits
3:00-3:45pm: One-Acts
3:30 pm Tech Olympics Awards
4-6 pm: Registration (incl. exhibitors)
4:45-5:30pm: One-Acts

7 pm: Showcase
6 & 7 pm: Showcases
Fees/Registration
Family, friends and students not participating in the one-act contest are welcome to attend the festival, one-act performances, and workshops for a $25 general festival registration fee. Family and friends who are not attending the entire festival may purchase time block tickets ($8 per time block) on-site to view a performance. Each block ticket includes a 90-minute session (two one-act performances or one workshop). Registration for all schools opens November 1 with registration finalized/due by noon Tuesday, November 12, 2019.
One-Act Fee
Covers all festival activities, except Thespian events and showcases for 30 students, includes 1 director/ chaperone (additional @$6/ea.)
General Pass
Non-one-act schools: covers all festival events/activities except Thespian events and showcases; includes 1 chaperone per 15 students. For schools whose WHSFA membership is current this school year, capped at 9 students @$25, then $6/additional student.
Middle Level
Covers access to one-acts, workshops, and exhibits; includes 1 chaperone per 15 students. For schools whose WHSFA middle level membership is current this school year, capped at 9 students @$12, then $6/additional student.
Showcase Ticket
Special fee for showcase tickets, above and beyond other festival registration fees.
Time-block Pass
Venue admission for family/friends for a two-one-act show time bloc
Thespian Excellence
Cost per entry for Thespian Excellence awards contest (details above), above and beyond other festival registration fees. Students cross-entered in more than one event must pay for each entry.
T-Shirts
Pre-registered price
Exhibit
$25 discount before October 1; covers exhibit space, table, 2 chairs, refreshments; two name badges; additional @$10/ea.
Traffic & Parking
Please be mindful of being in a large city and allow time for traffic, particularly if your hotel is outside the downtown area.
Buses should drop students off at 3243 N. Downer Ave., Milwaukee, WI, and should not drop off on Kenwood Ave.
Buses and trucks may park in the UWM UPark Capitol/Humboldt lot, for $2/day (using pay station, or Parkmobile app (zone code 59030). On Friday only, through 6 p.m., the Prowl Line shuttle is available — with a pass that must be obtained at festival registration. Saturday, we suggest using a shared ride service, such as Uber or Lyft, or MCTS bus (Red Line or 49U) between parking lot and campus.
The Union Garage has parking underneath the Peck School of the Arts (clearance 6'10").  Rates= $1/half hour; $1/hour after first 2 hours; Weekday limit:  $12/day; Saturday limit: $5/day. Pay for parking via walk-up paystations, credit card at exit, or Parkmobile app using code 59022. Click here to learn more about the garage entrance/exit stations (see picture to right). Nearby surface lot options (limited hours):
Zelazo (Parkmobile code 59009): Non-permit parking after 3pm Friday/all day Saturday.
Library/Garland (Parkmobile 59001): Non-permit parking after 4pm Friday/all day Saturday.
Please do NOT risk on-street parking around UW-Milwaukee. On-street parking is limited to extremely brief periods, and parking citations are issued vigorously, to protect rights of residents who live near the university.
Coffee Shop
Grind: Fri. 7:30am-4pm; Sat. 10:am-3pm.
Fri. 7am-4pm/Sat. 10am-4pm
Union Station: grab-n-go sandwiches, wraps, sushi, salads, donuts, bagels, candy, cookies; vegetarian, vegan, gluten-free.
Friday/Saturday 11am-8pm
Gasthaus: Pub food/lunch and dinner.
Friday Only: 7am-4pm
Flour Shop: breakfast all day
Friday Only - 10:30am-2pm
Pizza Presto
City Subs (and soup)
Stir Fry: Asian
Pacific Wraps: Asian flour wraps
Taco Bell
Burger King
Cedar Crest: Ice Cream
All locations are in the UWM Union, adjacent to the Peck School of the Arts.
Directors/teachers have access to snack refreshments in the AWTE lounge (PSOA 2nd floor, next to exhibit hall).
All-Gender Restrooms
By building:
PSOA*: AB94, TB48
Zelazo: 121
Union: 150, 160
*We will post directional signage in PSOA to these locations.
Harassment & Discrimination Policy
The Wisconsin High School Forensic Association is committed to fostering safe and supportive learning environments for all student participants and adults at our interscholastic events. This requires mutual respect on the part of all people present. Accordingly, WHSFA prohibits all forms of harassment and discrimination by and to any person, whether written or oral, based on race, color, religion, sex, gender identity or expression, sexual orientation, marital status, citizenship, national origin, age, disability, genetic information, or any other characteristic protected by any applicable federal, state, or local law. Individuals found to have violated this policy will be subject to a full range of sanctions, up to and including removal from the festival premises.
Complaints/Equity Officer
 If you have a concern about how people are treating you that you want to make known to the WHSFA and, if appropriate, legal authorities, or you have witnessed behavior inconsistent with the Harassment and Discrimination Policy, please report to the festival registration/information table in the Mainstage lobby, and request to meet with an equity officer. You will be asked to complete a form sharing your information and describing the violation. You will then discuss the grievance informally and on a verbal basis with an equity officer, who shall in turn, investigate the complaint. Whenever possible, connect with an equity officer in person first.